Malibu Hot Tubs and Saunas
To all of our Hot Tub and Sauna customers in Malibu, we want to thank you. Since we started in 1977, we have delivered and installed many Sunadance Spas, Hot Spring Spas, Caldera Spas, Finnleo Saunas and Finlandia Saunas and have always enjoyed our visit.
Malibu is a beautiful city full of picturesque views. It has excellent beaches where one can go swimming, sailing and indulge in other water sports. There are a number of parks, and one can also go hiking, mountain biking, cycling and horseback riding.
Malibu is a city west of Los Angeles, California. It is known for its celebrity homes and beaches, including wide and sandy Zuma Beach. To the east is Malibu Lagoon State Beach, known as Surfrider Beach for its waves. Nearby is the Spanish Revival–style Adamson House, with local history displays in its Malibu Lagoon Museum. Inland trails weave through canyons, waterfalls and grasslands in the Santa Monica Mountains.
PLACES TO SEE AND THINGS TO DO IN MALIBU
The Malibu Pier is one of the most iconic landmarks in Malibu. Built in 1905, the pier and it still looks fairly similar to its original construction. The main activities on the pier include sightseeing, shopping at the local gift store, dining at Malibu Farm, great photo ops, as well as some fishing.
The Pier located next to the famous surfing spot, Surfrider Beach, and is a great place to watch surfers catch waves. The Malibu Pier also has one of the most popular places to eat, Malibu Farm. Malibu Farm has two locations on the Pier, one at the end of the pier and one at the base of the pier. Both serve delicious food, and feature different menus. You can't go wrong with either.
Here are three that are highly recommended.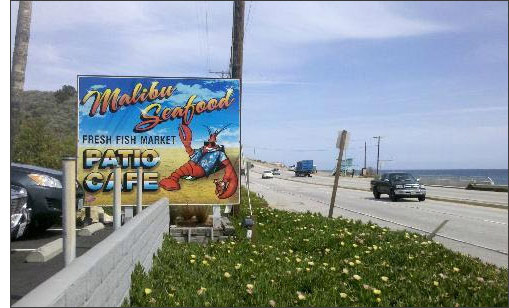 Malibu Seafood – This seafood joint located across from Dan Blocker Beach has become a Pacific Coast Highway landmark for its unmistakable square sign featuring a large red lobster. On any beautiful, sunny beach day, the line for this place will be so long, it often times floods onto the shoulder of the highway. Definitely worth the wait!
Paradise Cove Beach Cafe – This restaurant sits right on the beach at Paradise Cove Beach Club, and is open for breakfast, lunch and dinner. There you will find locals and tourists alike. The menu has quite a few options to chose from. The portions are on the large size, and if you want a recommendation, go for the tacos. Perhaps the best part about this restaurant is that you can be seated outside, directly on the sand!
Lily's Cafe – If you're looking for a great burrito, look no further. Lily's has become incredibly popular over the years for its signature breakfast burrito. It is hard to miss with anything on the menu from their tacos to their burger. It is all DELICIOUS! Be sure to CALL AHEAD with your order. During the busy hours the wait can be up to 40 minutes.
If you love wine you will love the Malibu Wine Safari:
It is really hard to miss with this one. The Wine Safari is a tour through the beautiful vineyards in the Malibu Mountains. Along the tour you are drinking wines from grapes grown locally, and enjoying the beautiful surrounding Mountain scenery.
Hiking is one of Malibu's most popular outdoor activities. Hiking enthusiasts travel far and wide to experience the beautiful trails and ocean views that Malibu has to offer. One hike that we recommend is the Solstice Canyon Hike. Solstice Canyon is a great hike to bring along the family to enjoy some of Malibu's incredible scenery.
Zuma Beach can handle all of your essential beach activities from sand castles to boogie boarding, so it is really hard to miss with a visit to this beach. By far the longest and largest beach around, it is rare to feel as if the beach is crowded because there is so much space on the sand. This beach also has plenty of parking as well as places to eat, bathrooms and showers.
SHOPPING IN MALIBU COUNTRY MART OR THE MALIBU LUMBER YARD
If you are looking to get some shopping done in Malibu, one of the best places is in the Country Mart or the Lumber Yard. These shopping centers feature plenty of stores, many of which are locally-owned small businesses. The shopping centers are adjacent to each other all within easy walking distance.
There are also plenty of places to grab something to eat as well as coffee (Coffee Bean) or smoothies. If you bring the kids along, there is a fun play area in the Country Mart too.