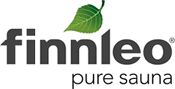 If you enjoy steam in the sauna, higher temperatures and a more social environment, then traditional sauna may be the best sauna for you. The traditional sauna is the only bath in the world where the user controls both temperature and humidity, with humidity controlled to user liking by how much water is thrown on the rocks. In far-infrared saunas you control the temperature, but the humidity is whatever it is.
Hallmark, Free-Standing Series
FIXED SIZES AND FEATURES (NOT CUSTOMIZEABLE), FREE-STANDING.
The Finnleo's Hallmark Series offers high-end design features on standard sizes & designs which makes the series an exceptional value. It makes owning a personal oasis at home easier than ever. Easy to assemble, yet loaded with upgrades usually found only in designer-type saunas, Hallmark puts the opportunity for a daily chance to relax and recharge within reach of everyone.
Hallmark is attractive in more ways than one. To the eye, top quality clear Canadian Hemlock inside and out reflects golden light in a warm, comforting glow. The exterior is protected with a biodegradable finish for a luxurious look and ease in maintenance. Interior puck lighting, color therapy lighting system and integrated sound system complete the aura of luxury.
Hallmark HM55C

5'x5' Corner Model
With the Neo-angle design the HM55C is perfecctly designed for a corner installation. Two people can enjoy the sauna. Now with SL2 and App.
Hallmark HM66C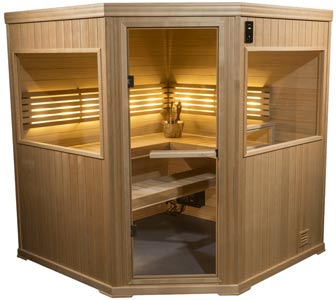 6'x6' Corner Model
The Neo-angle design allows convenient corner installation in this sauna that can seat 2-4 people. Now with SL2 and App.
True to tradition, Finnleo® saunas are made in Finnish style exclusively of fine grained Nordic White Spruce. Sisu rooms are light and well-ventilated, with a subtle hint of deep Finnish forests. The extensive use of Abachi white wood makes it comfortable to the touch — even at high temperatures. Abachi has no knots or splinters and resists stains as well as odor absorption.
Pamper yourself with the soft, even heat from Finnleo® 's exclusive heater design. Direct contact between the elements and rocks eliminates the harsh metallic feel characteristic of lower-quality heaters