Finlandia Prefabricated Rooms

Finlandia prefab Saunas are complete, freestanding, self-contained rooms engineered with fast and effortless installation in mind. They can be put anywhere you have an open space. The space needs to be a little larger than the actual Sauna room size. You must provide a waterproof floor (concrete, tile, or vinyl). FPFs contain all interior and exterior parts. Our prefabs can be installed by the homeowner over any hard-surfaced waterproof floor. We have an exclusive locking system inside each of our panels which makes our prefab the fastest to install, the strongest, and the most custom looking Sauna on the market. Average panel width is 24″ so wall sections can be easily brought through the house. The area where the Sauna is to be installed needs a minimum ceiling height of 87″, or if the Sauna room is 8'x 8′ or larger the minimum ceiling height is 89″. Our wall sections go together without any screws, splices, or bolts. Electrical hookup is made easy because we have electrical conduit sealed within the walls, and the optional wall control is pre-mounted. Electrical power enters at the top of the Sauna room standard.
OUR UNIQUE LOCKING SYSTEM GUARANTEES FASTEST AND EASIEST ASSEMBLY, STRONGEST INSTALLATION, AND MOST CUSTOM LOOK. FPF IS SHOWN WITH STANDARD WESTERN RED CEDAR INTERIOR.
FPF56 STANDARD EXTERIOR OF ROUGH SAWN MAHOGANY PLYWOOD AND STANDARD CLEAR GLASS DOOR. STANDARD EXTERIOR HEIGHT IS 84″.
Our FPF units are shipped in pre-framed, insulated, and paneled sections, and includes:
All pre-built/insulated wall and ceiling panels. 1″x 4″ clear Western Red Cedar is the standard interior-Mahogany plywood is the standard exterior (cedar exterior is optional).

Assembled benches made of 2″x 2″ tops with 3/8″ spacing and 2″x 4″ facing made in matching wood

Prehung clear glass 24″ wide door with solid wood rails and V.G. Douglas Fir lamination

Trim for exterior

Assembled headrest(s) for upper bench(es)

Finlandia Sauna heater model FLB with built-in controls (exterior wall controls are an option) or Club model heater with F-2T wall control for larger size rooms

Stones–50 to 150 lbs. (depending on room size)

Wooden heater guard

Super Dek, interlocking 12″ x 12″ x 1/2″ flooring squares for walking area of room. Prefab Sauna does not come with a solid surfaced floor. Sauna needs to be assembled on a level concrete, tile, or vinyl floor.

P5511 Wall light, Light Switch (if exterior control is not ordered), V10 Metal Vents (V5 Cedar Vents are optional), Screws, DVD Instructions, and Sauna Accessories including 102N Wooden Bucket with plastic liner, 106/40 Dipper, 0301K Thermometer, 079 Headrest for each upper bench, and Bathing Sign.
PREFABRICATED PARTS FOR FINLANDIA FPF SAUNA.
FPC CUSTOM WESTERN RED CEDAR SAUNA WITH OPTIONAL BENCH SKIRT AND OPTIONAL BACKREST ABOVE UPPER BENCH.
FPF57 LAYOUT WITH OPTIONAL 3-SLAT BACKREST AND OPTIONAL STAINLESS STEEL HEATER CASING.
FPF68 WITH OPTIONAL CEDAR EXTERIOR, OPTIONAL 12″ x 30″ SIDELIGHT WINDOWS, AND OPTIONAL MT. HOOD ETCHED GLASS DOOR.
FPF56 WITH OPTIONAL CEDAR EXTERIOR FRONT, AND OPTIONAL CEDAR VENT.
FPF46 CEDAR SAUNA WITH OPTIONAL 3-SLAT BACKRESTAND OPTIONAL 5-SLAT BENCH SKIRT.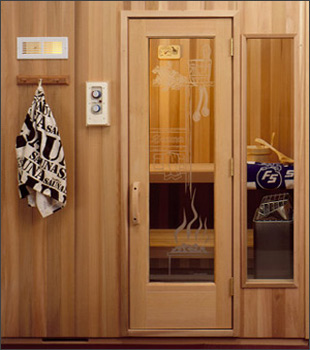 FPF56 SAUNA WITH OPTIONAL F-1T WALL CONTROL, OPTIONAL CEDAR EXTERIOR, OPTIONAL SAUNA SCENE POSITIVE ETCH GLASS, AND OPTIONAL 12″ X 60″ SIDELIGHT WINDOW.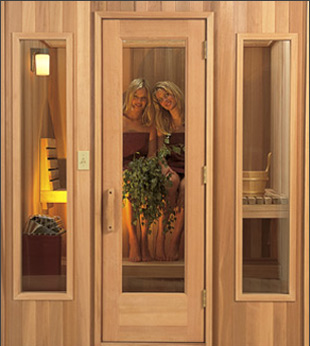 FPF66 WITH OPTIONAL 12″ x 60″ SIDELIGHT WINDOWS AND OPTIONAL CEDAR EXTERIOR.
FPF66 WESTERN RED CEDAR WITH OPTIONAL LIGHT SHADE.
FPF68 WESTERN RED CEDAR SAUNA
FPF56 WITH OPTIONAL CEDAR EXTERIOR AND OPTIONAL CEDAR VENT.
FPF57 WITH OPTIONAL ALASKA YELOW CEDAR EXTERIOR, OPTIONAL 12″ x 30″ SIDELIGHT WINDOWS, AND OPTIONAL FINNISH ALL GLASS DOOR.
FPF57 WITH OPTIONAL ALASKA YELOW CEDAR EXTERIOR, OPTIONAL 12″ x 30″ SIDELIGHT WINDOWS, AND OPTIONAL FINNISH ALL GLASS DOOR.
FPF44-5S WITH OPTIONAL 12″ x 30″ SIDELIGHT WINDOW AND OPTIONAL FINNISH ALL GLASS DOOR